August 7th, 2008 by Shaun
Come on, who doesn't remember and absolutely adore Sooty and Sweep?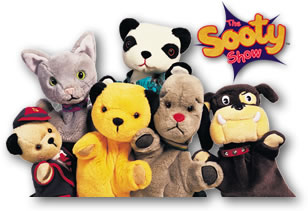 For those who actually played outside during their childhood (why would you do that?), Sooty and Sweep is a kids TV show which from the 1950s which still runs to this present day. Infact, in June 2008 some geezer called Richard Cadell bought the rights to Sooty and they will be releasing Sooty again. Who's taking bets that it's awful?
Who also hates little cousin Scampy too? What an annoying little vermine. Sweep was my favourite character. He just wanted bones and sausages :(
Anywhere here are the lyrics for Sooty & co. for nostalgia:
Hey ho! It's Sooty and co.!
Everybody say "hello" (hello!)
There's Sooty, and Sweep, a panda called Soo,
And little cousin Scampy, too!

There'll be fun galore with the terrible four,
Just you wait and see!

It's Sooty and company! Sooty and company!
Here's a full episode: