December 31st, 2006 by Shaun
Due to the way GIFs are structured, it's possible to hide other files inside the data of them. The GIF parser only checks for GIF file data, ignoring all other data within the file. Winamp and other good audio players only check files for playable MP3 audio within the file and ignores all other data. Windows Media Player does not work for this.
1. Find a GIF

Firstly find an image that you wish to combine with the audio. This image should GIF already and not too big. I chose a froggy because froggies are green and green is an awesome colour, okay? Do you have a problem with that buddy?
.
.
2. Record an MP3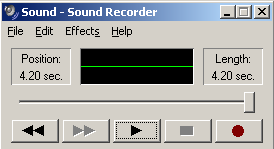 I assume you're using Windows, so Start > Run > "sndrec32" (Windows WAV Recorder) and press OK. Record your little sound but don't make it too long.
.
.
.
3. Save as MP3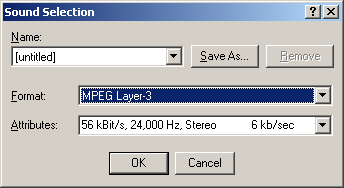 Using File > Save As in Windows Sound Recorder, and hit the "Change" button and select "MPEG Layer-3" from the drop down box entitled Format. Then click OK and save your file as something.mp3.
.
4. A little bit of magic
Now open the Windows Command Prompt and navigate to the directory where you saved your files. This will more than likely be your desktop.
This command works fastest:
C:\>cd %userprofile%\desktop\
C:\Documents and Settings\Shaun\Desktop> _
Now enter the command below, changing my filenames for the ones you saved as:
copy pic1.gif /b + audio.mp3 /b newpic.gif
C:\Documents and Settings\Shaun\Desktop>copy frog.gif /b + audio.mp3 /b lol.gif
frog.gif
audio.mp3
1 file(s) copied.
You should now have a file called newpic.gif (or whatever you compiled it as) in that directory which has special audio hidden inside of it.
Try out these below (drag them into Winamp):
Try some for yourself, upload to imageshack or something and comment/reply with them!
No Responses to "How To Hide An MP3 Inside A GIF"